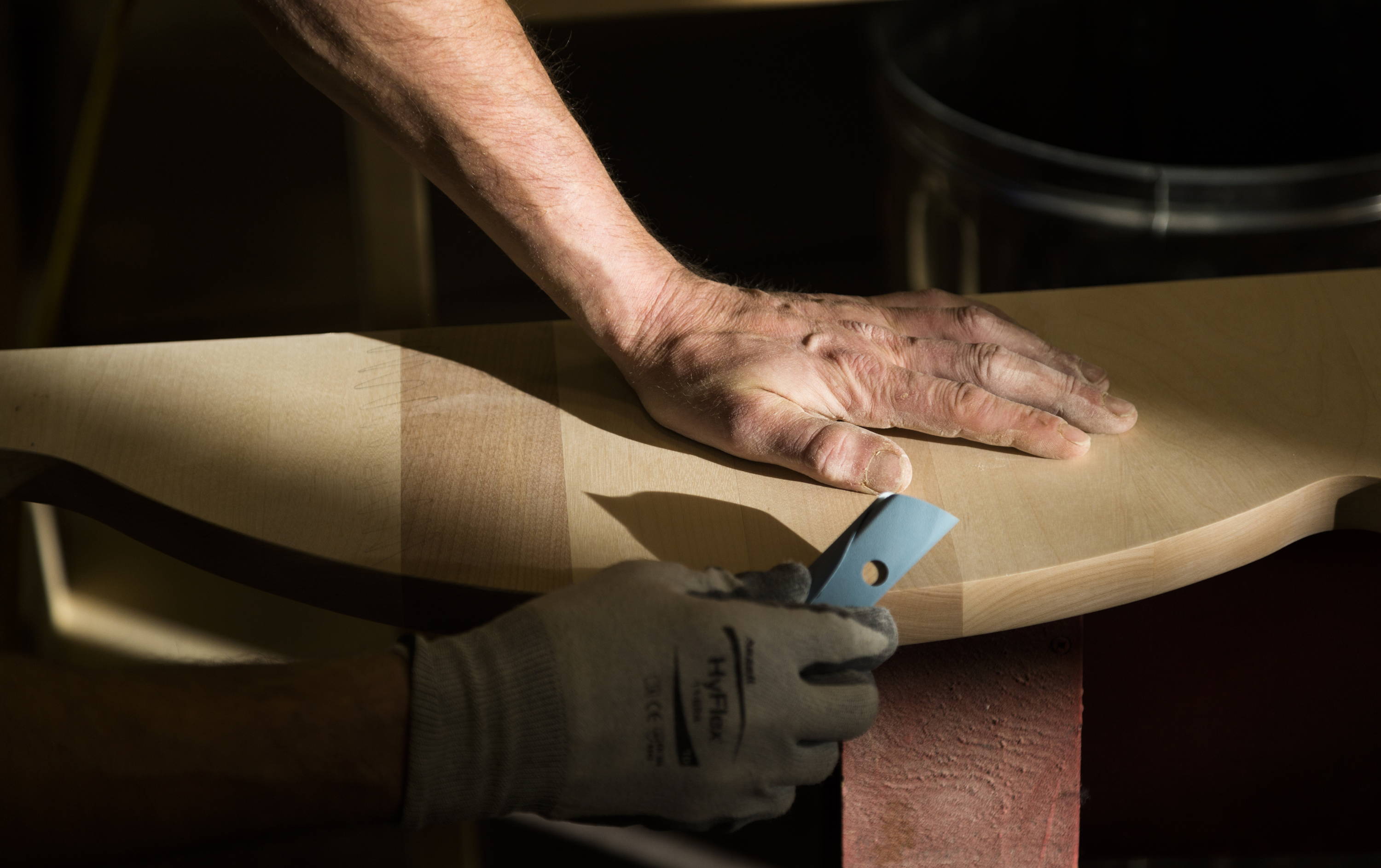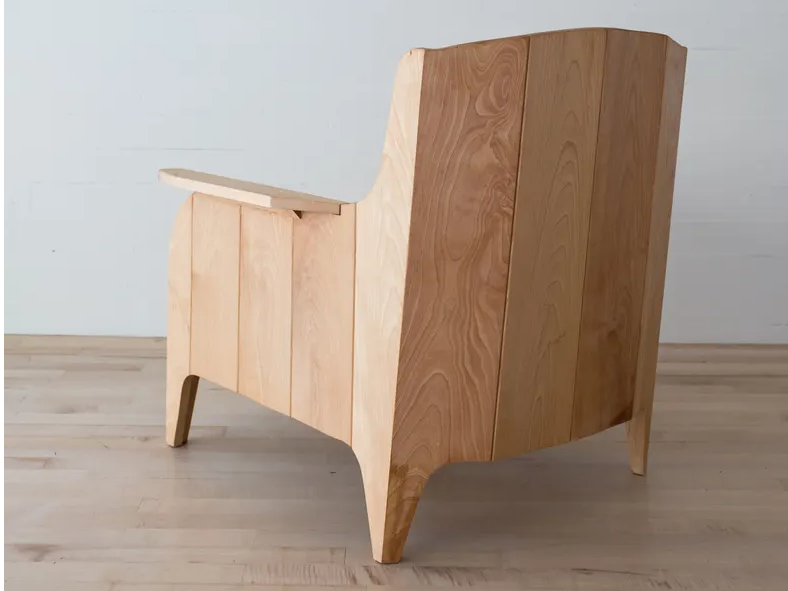 Birch
Outport Newfoundlanders traditionally used what was close at hand. Birch is a abundant around Fogo Island and across the province. We choose to use the same approach but go a little further than arm's length to source Yelloxw Birch from the region to ensure we get sustainably harvested and kiln-dried wood.
Birch is a hardwood with an eclectic grain pattern compared to other domestic pale wood species like maple. Birch has a varied grain pattern that comes in shades of white, or off-white with occasional streaks of reddish-brown tint. Birtch is used for all furniture pieces apart from the Punt Chair.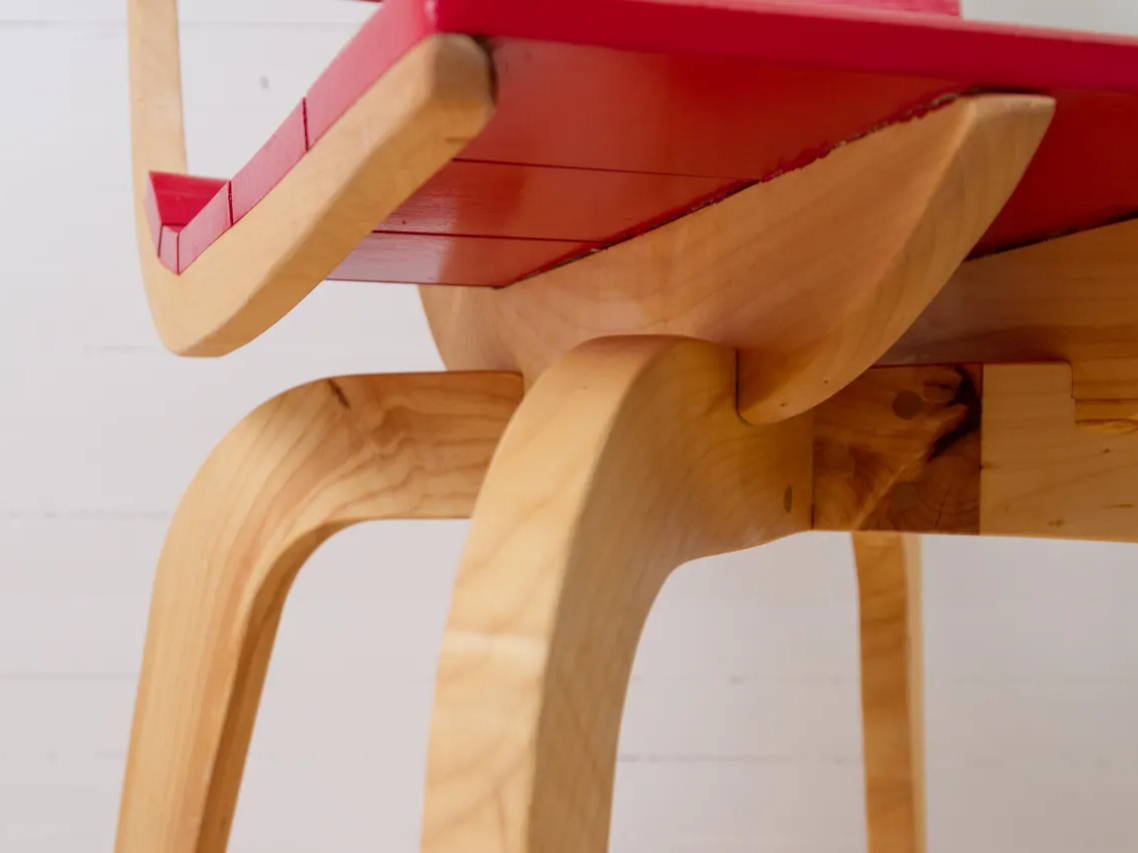 Juniper
Juniper, or tamarack, is the tree used to create the traditional boats of Newfoundland's inshore fishery, the punt. The tree's knees, or roots, are harvested through digging after the rest of the tree is cut for firewood. The knees grow in the perfect curve to be used for the boat's hull without having to make any cuts or join any boards, making it incredibly strong.
Juniper is a soft wood that is weather resistant but will show wear easier than hard woods. The tone is a rich amber brown and works best with Danish oil so you can address any dings with sanding and oiling again if desired. For us, the patina of use makes it all the more interesting. Juniper is used for the Punt Chair and Juniper Knives.
---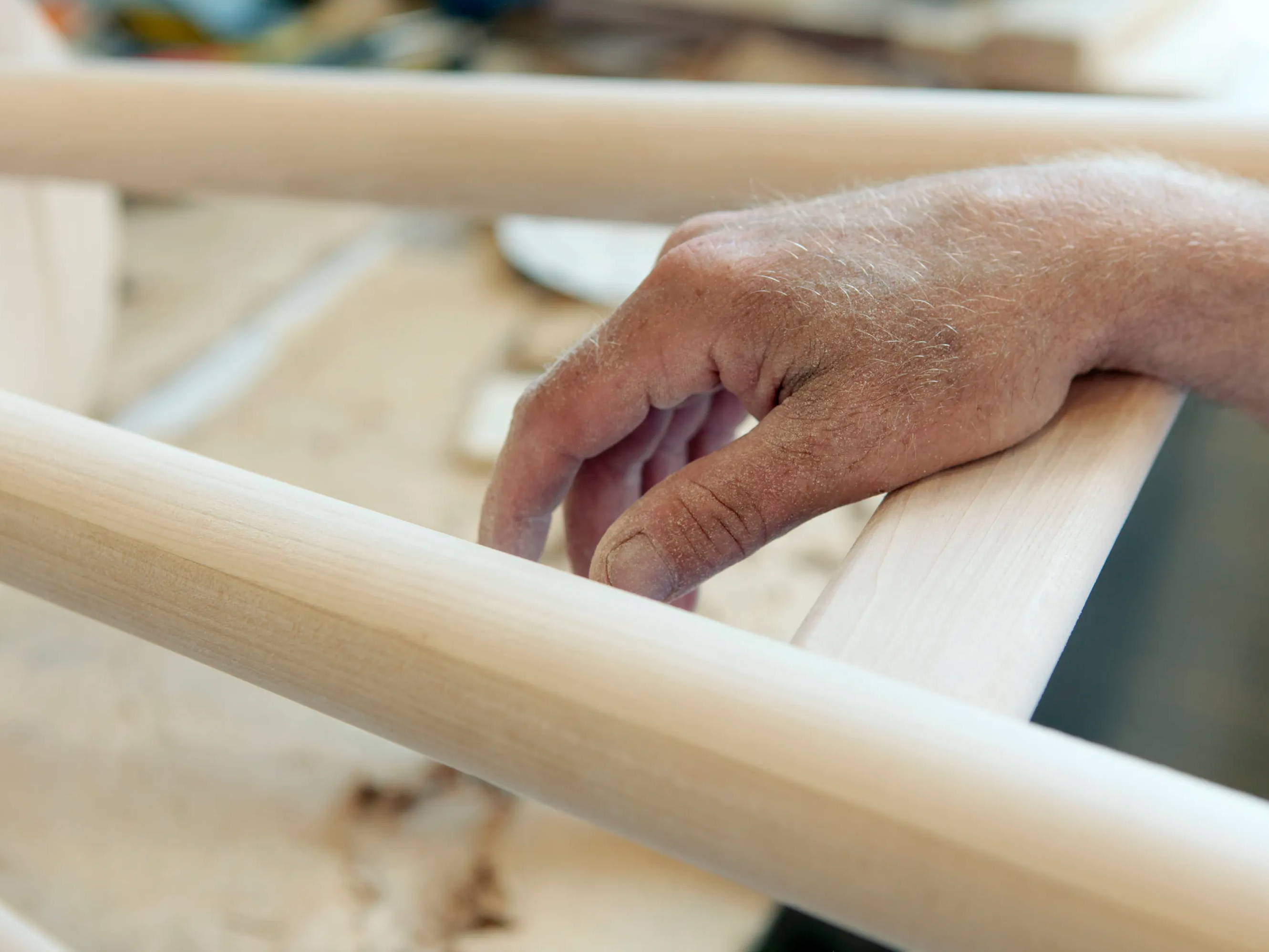 Hand-applied Oil Finishes
These oil-based finishes will fill the wood pores rather than sit on top of the wood. Dents and scratches are easeir to repair on oiled versus painted finishes as you can lightly sand and reapply oil.
Oil finishes will dry out with time – especially in very dry environments or through consistent exposure to sunlight – leaving the wood looking dusty. To prevent this, it is recommended that a thin coat of oil be reapplied every one to three years.
Hand rubbed oil finished can appear inconsistent at first but even out as the oil abosrbs at different rates into the varying density of the grain.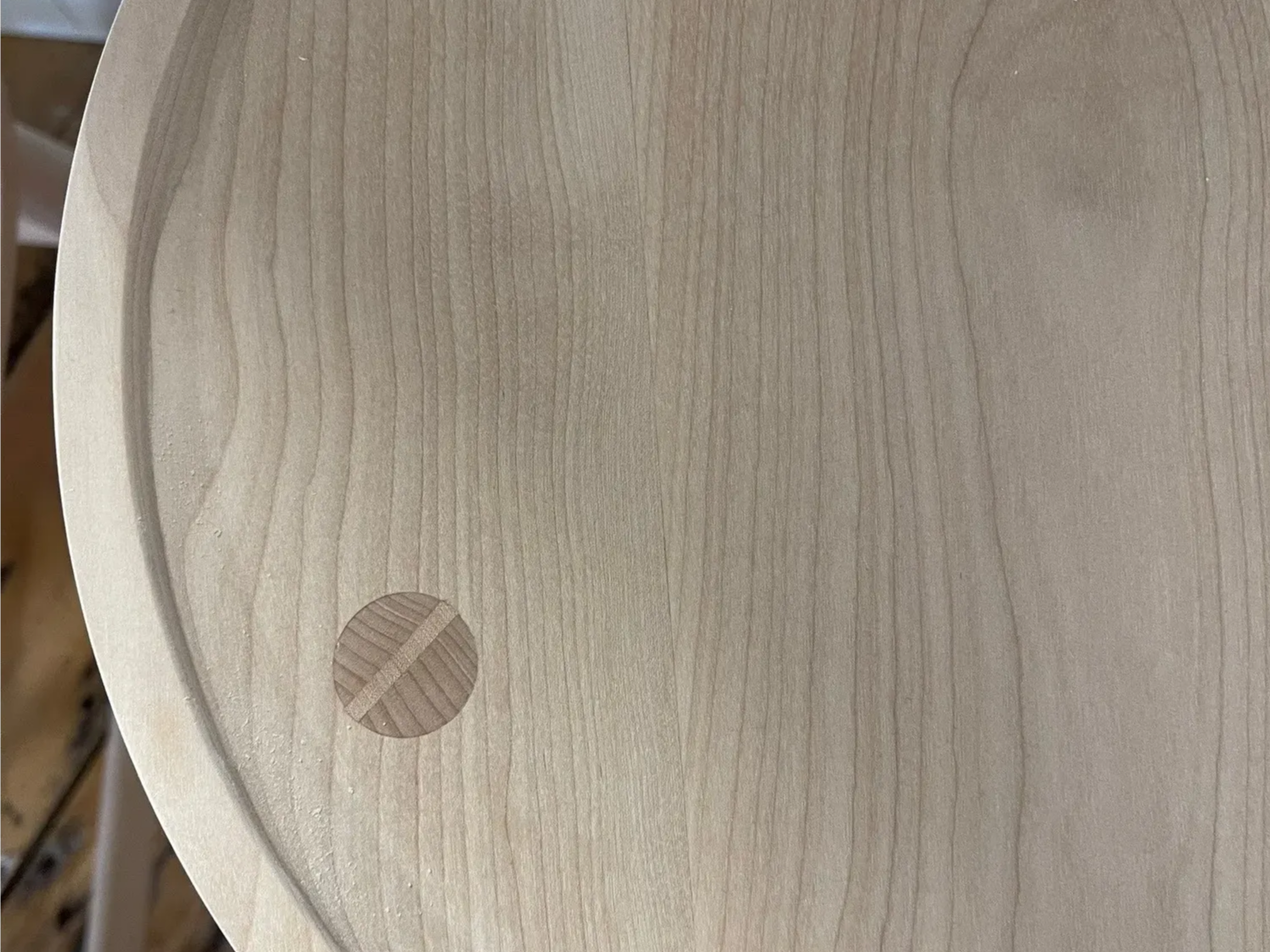 White Oil
Primarily a mixture of vegetable oils and waxes and meets Environment Canada's low-VOC regulation, but contains some Naphtha, a petroleum-based product. It contains white pigment to keep the wood light in appearance and prevent from yellowing over time. White oil will still show some of the natural colour variations in the birch wood, without emphasizing the contrast.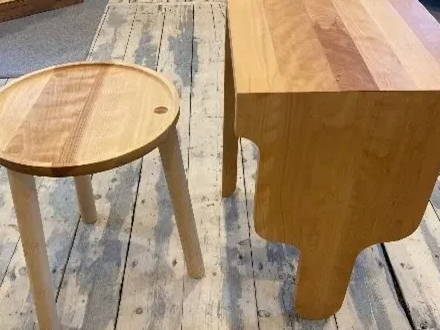 Danish Oil
A natural oil made of primarily tung and linseed oil obtained from the seeds of tung trees and flax plants. It is a more traditional way of finishing furniture that grew in popularity in the early 20th century in Scandinavian furniture.
Highlighting the natural colour variation in birch, it starts off a light golden hue but significantly darkens with time, turing into a dark amber colour after several years. In the image above, the Puppy Table has been oiled a year, showing how the colour develops over time.
---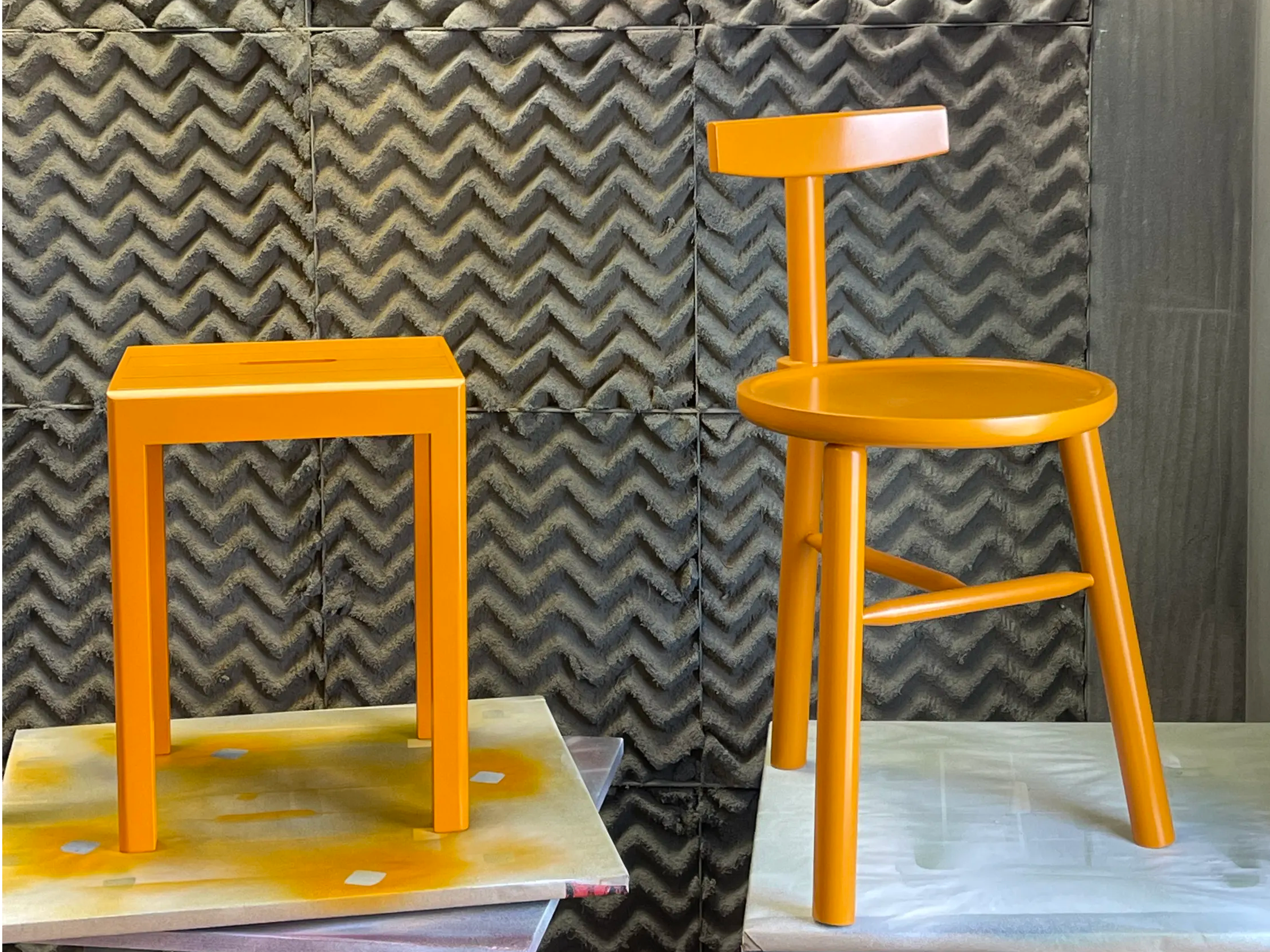 Painted Finishes
These finishes sit on top of the wood rather than sinking into the pores of the wood. They don't require any maintenance and are easier to clean but trickier to repair if the surface becomes scratched or damaged – this typically requires sanding and re-spraying the whole surface.
Our coloured lacquers are pre-catalyzed and water based, in a satin gloss finish. Furniture finished in a colour will receive a coat of primer before it is sprayed with two to six coats of the lacquer. When the colour is uniform, the piece is then finished with a clear topcoat top help protect the colour underneath.
Although these finishes do not require maintenance beyond a wipe with a mild hand soap or detergent, we recommend coloured lacquers be used on lower traffic surfaces because if the surface is scratched or dented, either the primer or the wood underneath will reveal itself. We can provide touch up kits, bu t a clean repair can sometimes require respraying. Don't let that stop your colour vision though as the risk can be mitigated with pads and coasters.
Custom Finishes
We would be happy to work with you to create a unique piece with a wood species, colour or upholstery of your choice. Get in touch with our team using the email below for more information on process and pricing.